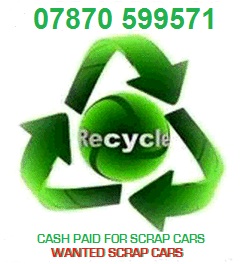 CASH FOR SCRAP CARS/VANS
WE BUY ANY SCRAP CAR/VAN/4x4 ANY CONDITION OR CREED
Our cash for scrap service is popular in the Bradford area. No mater what part of Bradford you live in, we can collect your old scrap car. We cover Baildon, Bingley, Bolton, Undercliffe, Bowling, Barkerend, Bradford Moor Clayton,leeds and its surrounding areas
If you live in or near leeds / bradford Fairweather Green, Craven, Eccleshill, Great Horton, Heaton, Idle, Hackley and Ilkley you will be delighted to know we will pick up your old car and scrap it, and hand over cash to you
Are you looking for a company to remove your car, paying cash for it?
Cash for scrap cars specialises in collecting and scrapping cars. Based in bradford, we work all over the North West of the UK. We regularly pick up damaged and scrap cars the Leeds and Bradford area
Scrap cars for cash
When we collect your scrap car, we pay you cash for it, and then take it away and recycle it. The process could not be easier. Fill in the form below, or call us on 07870 599571. We will then arrange to pick up your scrap cars.Please have your V5c /logbook to hand as we will require this and only this for the vehicle.
Where else do you cover?
We are based in Bradford, and cover all the towns in the surrounding areas including:Leeds,Bingley,Cottingley, Keighley, Little Horton, Manningham, Queensbury, Royds, Shipley, Thornton and Allerton, Toller, Tong, Wharfedale, Wibsey, Windhill and Wrose, Worth Valley and Wyke
Scrapping vans and light commercial vehicles
We not only give cash for cars cars, we pay cash for vans and commercial vehicles too. We know that you will not want to waste time moving your old commercial vehicles, which is why we can collect them from you
We will pay your company for any vehicles we scrap for you. If you have a van for salvage or scrapping, drop us a line, We come to your business premises, and collect the vehicles you need rid of. This makes your life easier. Liberate your car park back again! The only document required is the V5c /logbook.
One call will do it all. So call now on 07870 599571