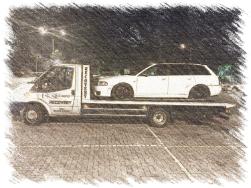 Accident Recovery in Bradford
Khan 24hr Recovery are very experienced in dealing with road
and motorway accidents in Bradford. Our qualified staff will
be on hand to help you not only with the vehicle recovery,
we can also get you back home safely and if needed take
your car or van and recover it back to are secure storage
yard. Your vehicle will then be safer while either you or your
insurer decide what is going to happen with the vehicle.
Vehicle Transportation in Bradford and anywhere in the UK - Twin Vehicle Transporter Available - We can move , vans, cars and small plant.
07870 599571



About Us
We are reliable professionals with over 8 years of experience. We listen to our customers and work with them to address their needs through innovative solutions. Local or National, we are happy to meet our customers needs.
Services
With a wealth of experience in roadside recovery we are able to do even the most challenging of jobs. From lowered cars, to cars that are not roadworthy, your vehcile will be recovered to the destination of your choice with the utmost of care.We also buy any vehicle in any state i.e damaged,m.o.t failure,scrap car,or just a car no longer needed,Give us a call to get top prices paid for your unwanted/scrap vehicles,
Khan 24hr Recovery is a professional vehicle breakdown recovery company based in Bradford, West Yorkshire. We also offer a fast and reliable vehicle transportation service in Bradford West Yorkshire and anywhere else in the UK for 1 or 2 vehicles at one time, day or night we operate nationally with door to door pickup and delivery. All of our trucks are modern, fully equipped, and fully insured. Our workforce consists of experienced and qualified drivers who are licensed to operate all of our transportation vehicles. We also offer a 100% safety certification, promising you that your car is safe in our hands.
To our customers in Bradford West Yorkshire, we offer special
deals such as paying cash for your unwanted/scrap cars, as
well as discount rates on vehicle storage. Our convenient
location offers us easy access to all the major motorways,
including the M606, M1, M62, M6 and A1, A650. We also promise you
the fastest response time around.
Breakdown Recovery in Bradford
When you need a car or van recovering in Bradford due to mechanical problems at the side of the road, the last thing you want to do is call up a company that is going to take a long time to get there. We know that waiting at the side of the road is unsafe and not enjoyable either. One telephone call and we will send a breakdown recovery vehicle out to assist you quickly. We are one of the few inependent's operating proper 7.5 Tonne Roadside Recovery vehicle capable of moving large vans and 4x4's safely and legally.
Our Work
Our work has taken us across the length and breadth of the British Isles, we have recovered everything from high value sports cars, 4X4's , MPV's and Light Commerical Vehicles. Some of the vehicles recovered are roadworthy, and we simply act as an A-B Transport company, other vehicles are a little more challenging! Damaged vehicles , and broken down vehicles need to be recovered with care, our vehicles have the latest winches and strapping equipment to prevent further damage. Through our contact we are able to advise on all aspects of vehicle repair, and can assist in getting you back on the road with minimal fuss.
Testimonials
"Khan Recovery recovered my Taxi after a minor accident with both speed and efficiency" M. Sarwar Girlington Taxi's
"My Smart Car was transported over 200 miles by Khan !" M. Hepplthwaite Halifax
"I bought a damaged car from a Salvage Auction, Khan delivered it with care to my home" Mr Ostar Sowerby Bridge
"100% Trustworthy, I gave Khan £2000 cash to collect a car I had won on Ebay - delivered! Job Done !!" Miss C. Griggs Cottingley
"When my wife was involved in a Collision, and I could not attend , I entrusted Khan with the job, polite & courteous at all times" Mr R.Singh Nisa Local "
"After trying local Cowboys who recovered my car and damaged it in the process!! We turned to Khan who knew his job!" B. Watts Thornton
"Reliable, and Prompt, on the many occasions we have used Khan he has been a pleasure to do business with " Sunbridge Autos
The Yorkshire city of Bradford offers a great deal to visitors of all ages. Whether you are staying in Bradford on business or for pleasure there are a host of different things to see and do whilst in the area. The latest addition is the City Park. Here you can enjoy the impressive high tech water feature. It's the largest of its kind in the UK with its huge reflective mirror. Its interactive lasers and its incredible water spout shoot plumes of water up to 30 meters in the air. Why not take a companion with you to enjoy this spectacle? Or maybe you could visit the nearby art galleries located in the surrounding streets.
The City Park is also home to a host of different events such as concerts or open air film screenings.
National Media Museum
Bradford Transport Museum
Saltaire World Heritf